The Kenwood CookEasy +
Serving up style and convenience in one smart, easy to use appliance, the CookEasy+ is an all in one cooker that does the hard work in the kitchen for you; helping you prepare and cook homemade meals from scratch with ease. Here's our guide to getting the most out of this complete kitchen multi-tasker.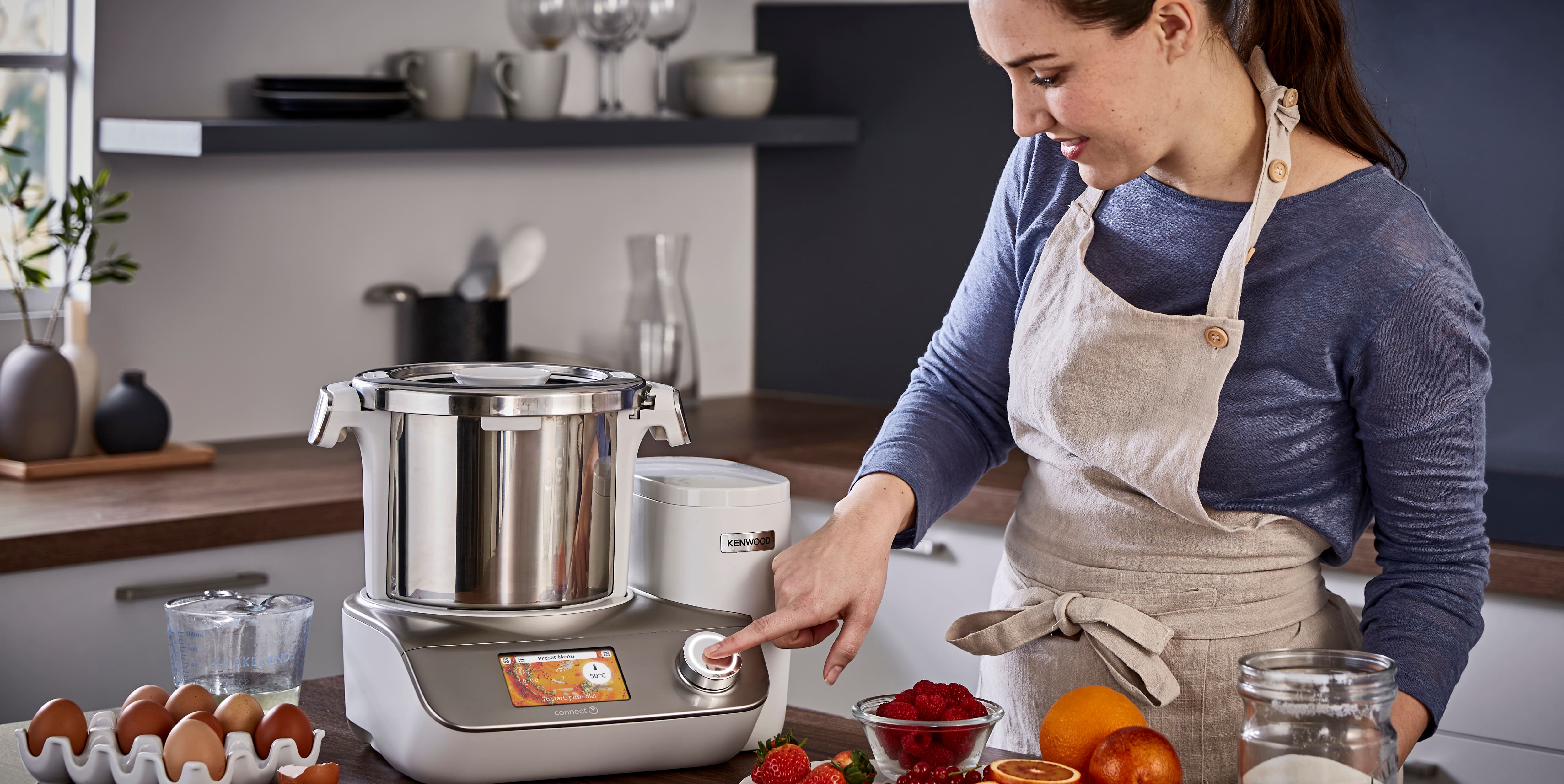 Meet the
CookEasy+
, your ultimate kitchen assistant. Combining Kenwood's years of kitchen experience with the latest technology, this is an all in one cooker that really does do it all; chop, steam, stir, knead, weigh, slow-cook, blend and stir fry. There are also nine clever one-touch presets that take all the guesswork out of a range of everyday cooking tasks, while if you're short on inspiration for what to make next you can even connect your CookEasy+ to the Kenwood World app to access hundreds of expertly crafted recipes. 
Whether you're throwing together a quick midweek dinner or preparing a more elaborate weekend feast, the CookEasy+ is designed to make things in the kitchen quicker and easier for you, so you can spend less time prepping and more time creating. And with its sleek, minimalist design, compact size and premium chrome finish, it even looks good on your worktop, too. Here's our guide to the CookEasy+'s key features to help you get the most from this truly sophisticated appliance, along with some mouth-watering recipe ideas to get you started.
The all in one cooker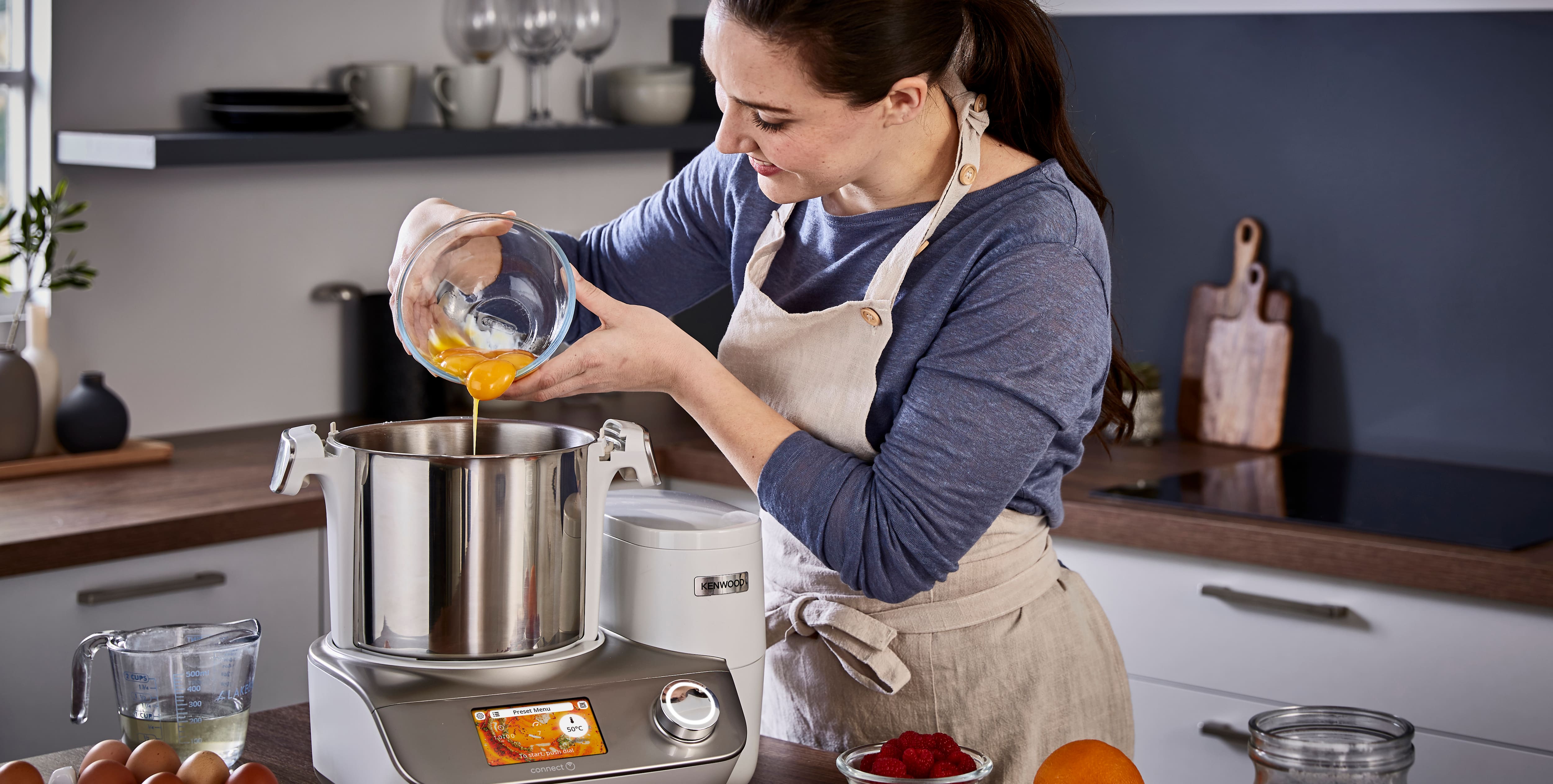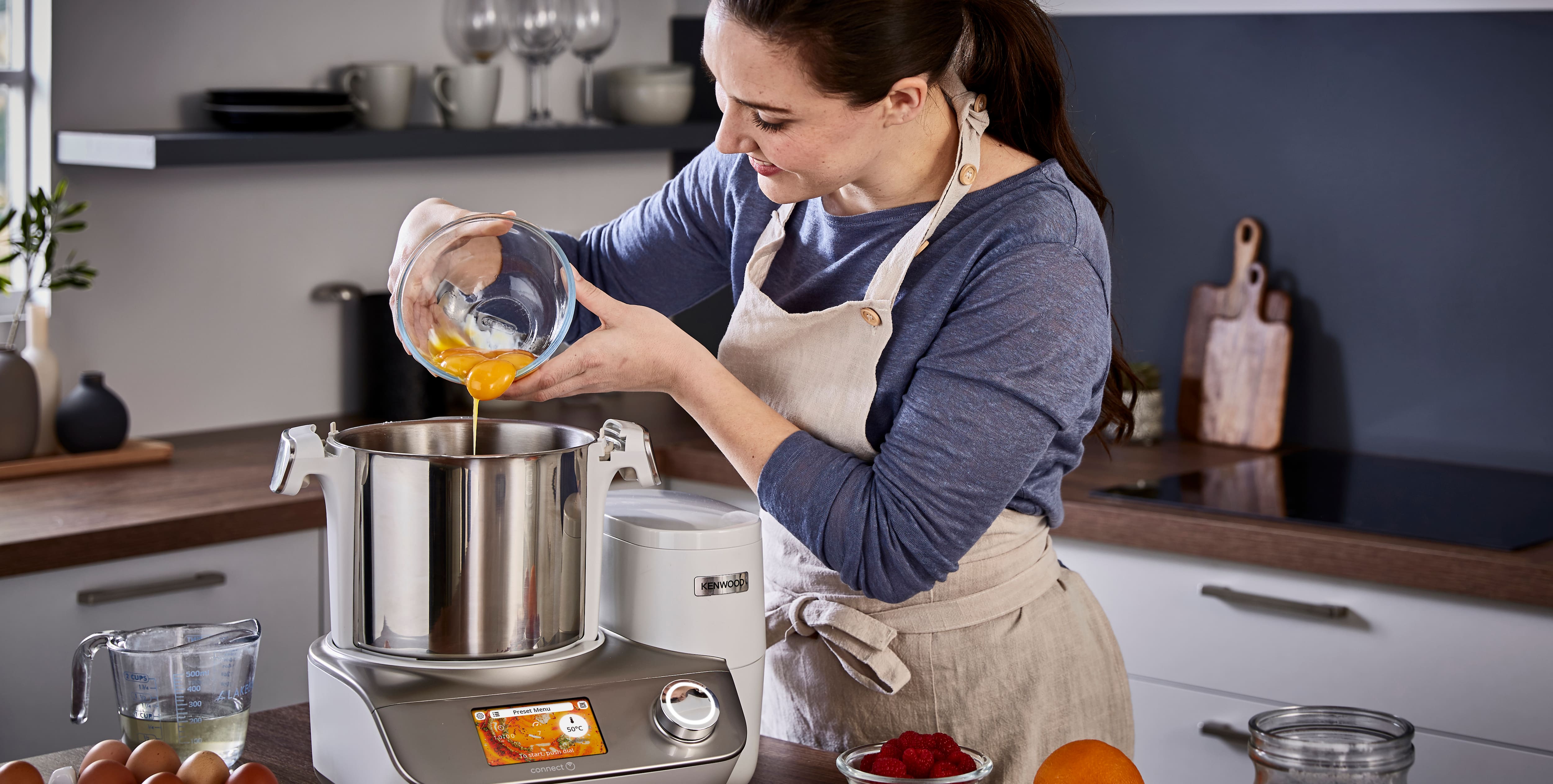 The  CookEasy+ is the perfect complete meal solution for busy homes; an all in one cooker which allows you to prepare and cook delicious homemade meals with minimal mess and minimal fuss.  Feeding a crowd or batch cooking up a storm for the freezer? No problem. The 4.5l stainless steel bowl offers a large cooking capacity, enabling you to prepare meals for between two and 10 servings. The CookEasy+ also allows you to experience open bowl cooking with the lid off, so you can be a little bit more hands-on when creating your dishes. 

The machine's powerful 550W motor means it can tackle slow stirring or high speed chopping, and everything in between, while 1500W of heating power gives you the ability to really turn up the heat when you need it- all the way up to 180℃.
Easy to control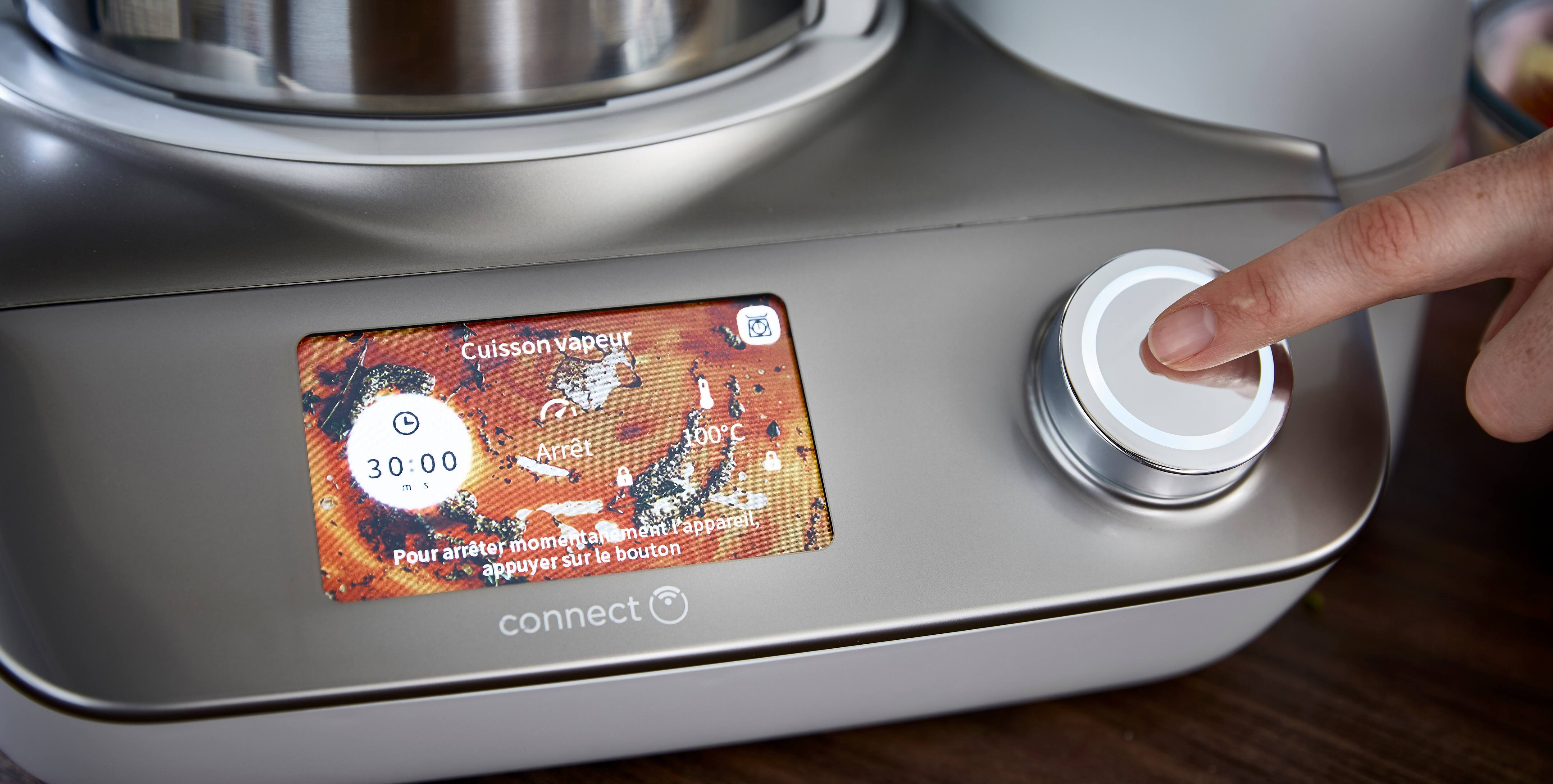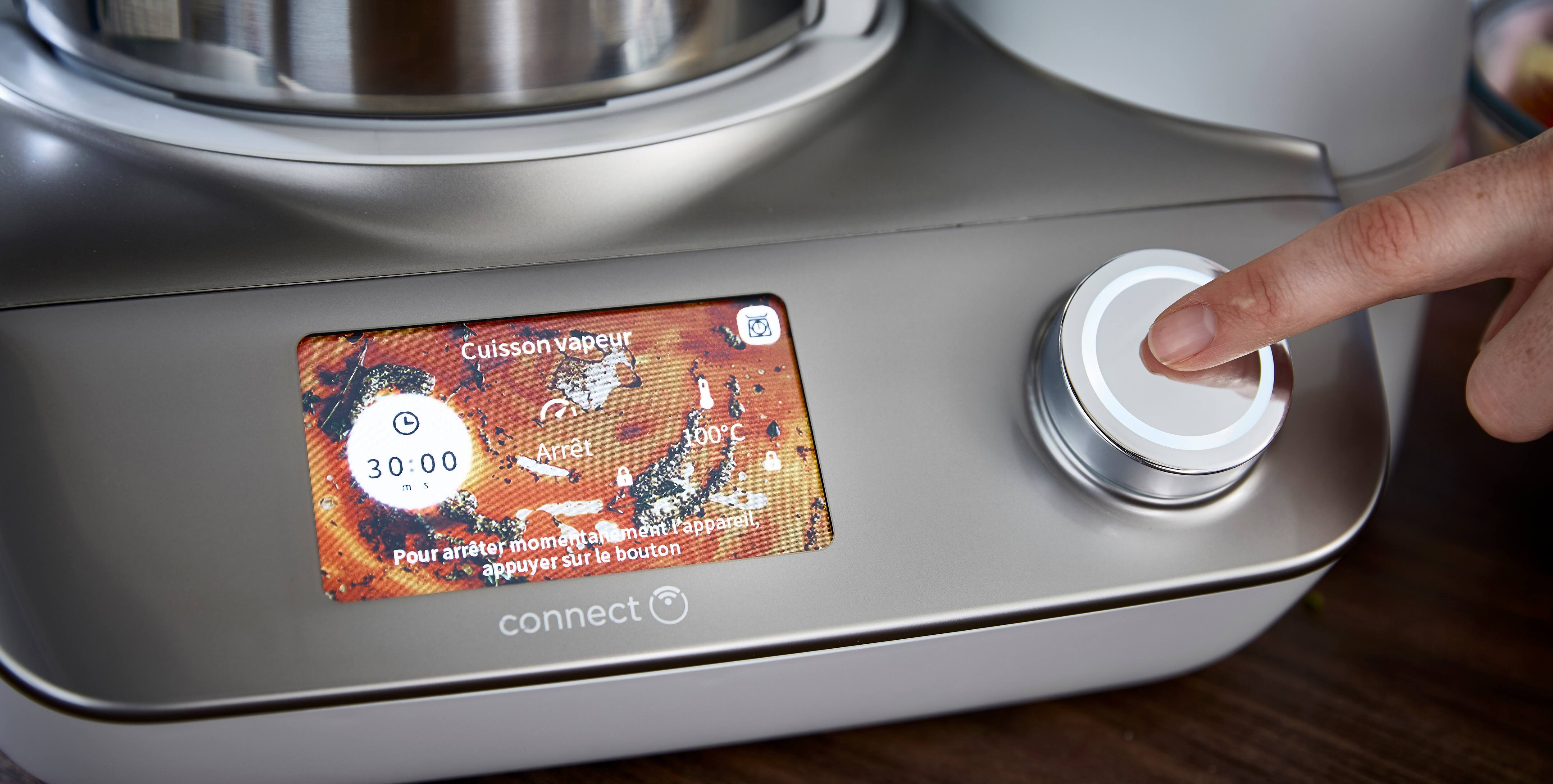 Smart and sophisticated the CookEasy+ may be, but when it comes to using it, we've kept things simple. Use the large full colour touch screen display and illuminated control dial to adjust the cooking temperature, set the timer, use the integrated scales and choose one of 3 stir speeds, 9 continuous speed and 1 'no speed' setting. 
Direct prep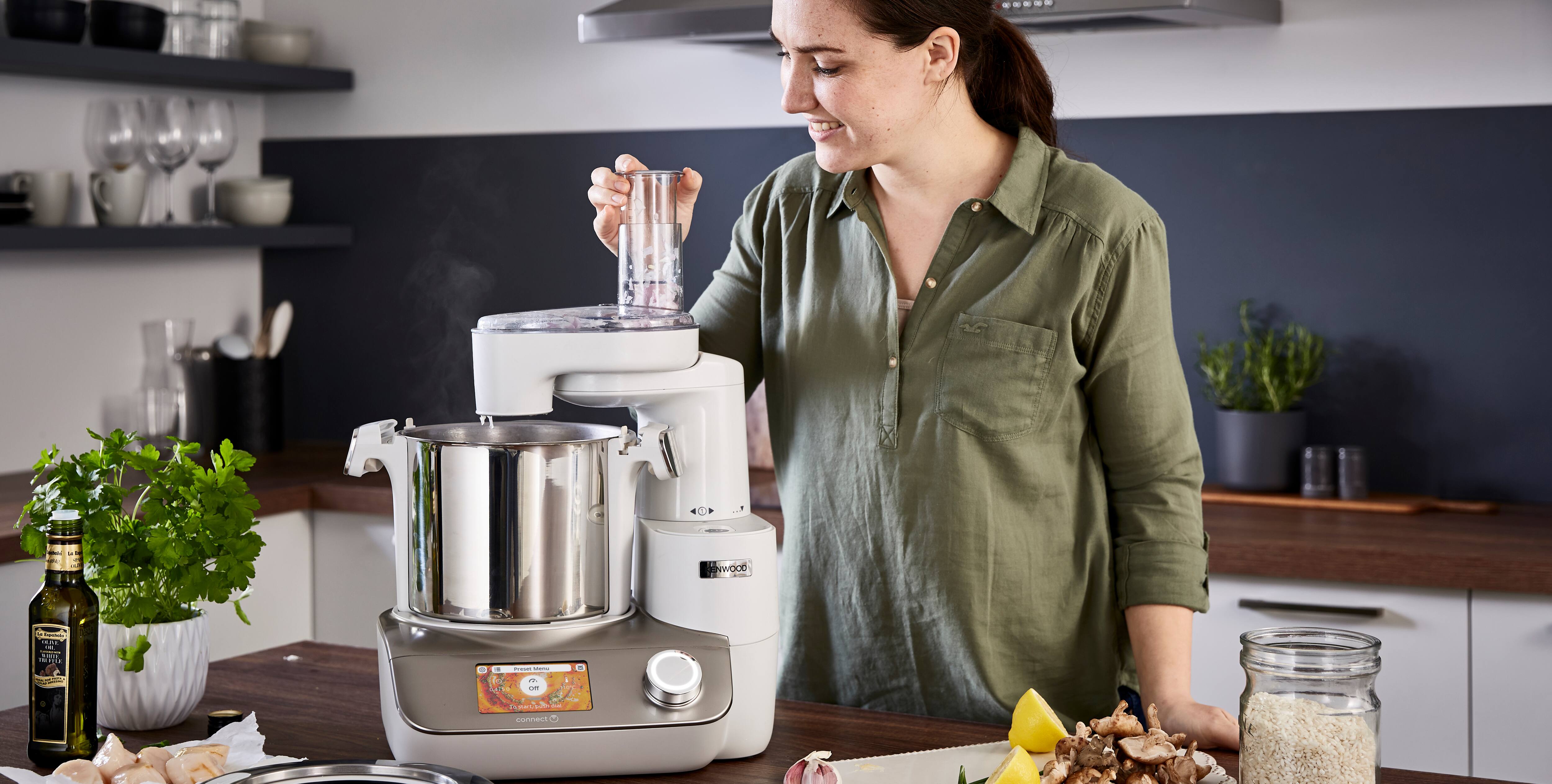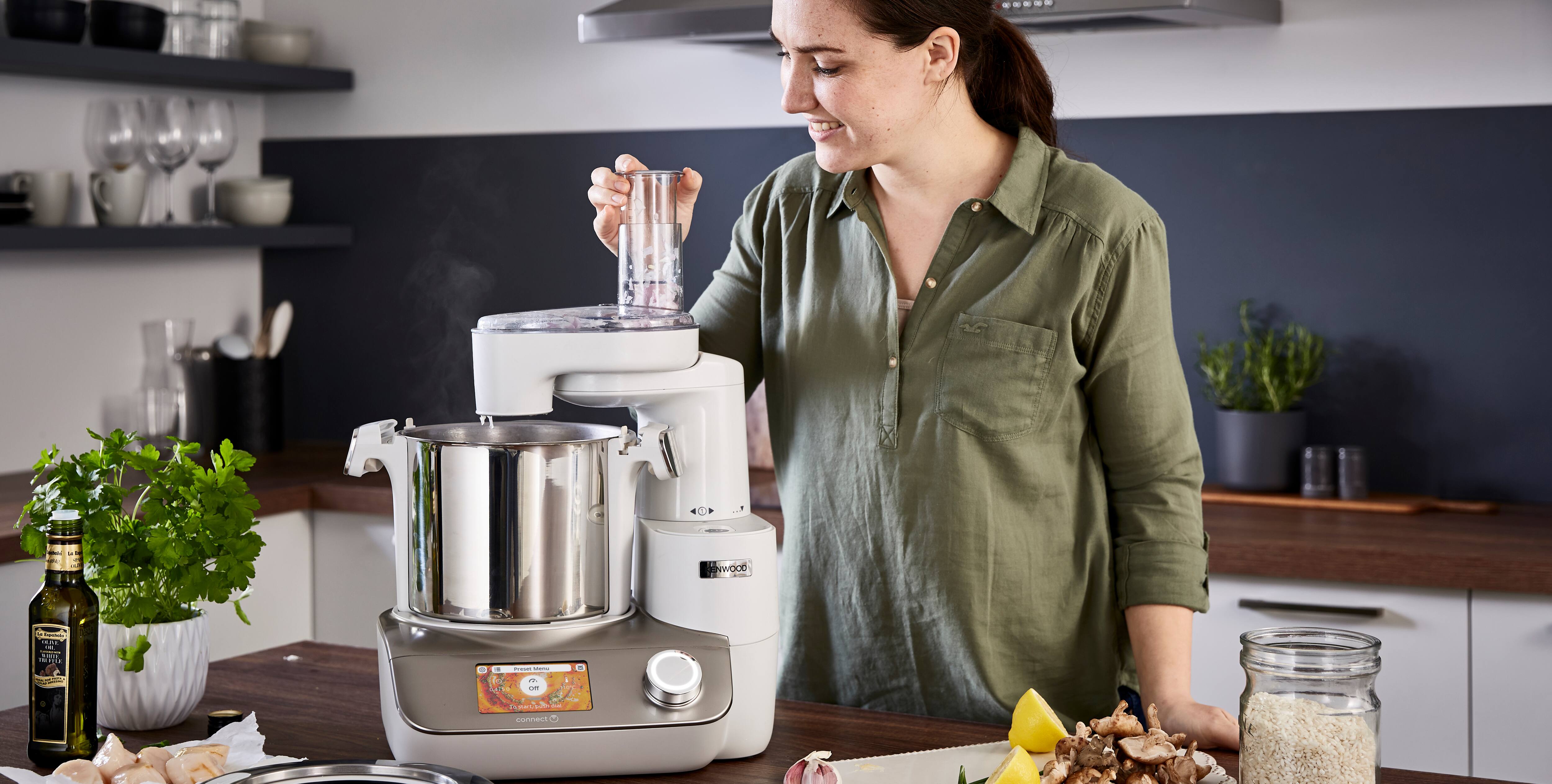 The CookEasy+'s dual position direct prep tower allows you to prepare food directly where you need it, as you can slice or grate your ingredients either directly into the appliance or a separate bowl on the side. Taking all the hassle out of meal prep and saving you time-and washing up.

Choose from five interchangeable grating and slicing discs so you can prepare your ingredients exactly how you want them:

1 - Extra fine grating disc for Parmesan cheese
2 - Fine grating disc for cheese and firm fruit or vegetables
3 - Coarse grating disc for cheese and firm fruit or vegetables
4 - Thin slicing disc for cheese and firm fruit or vegetables
5 - Thick slicing disc for cheese and firm fruit or vegetables
 
Integrated weighing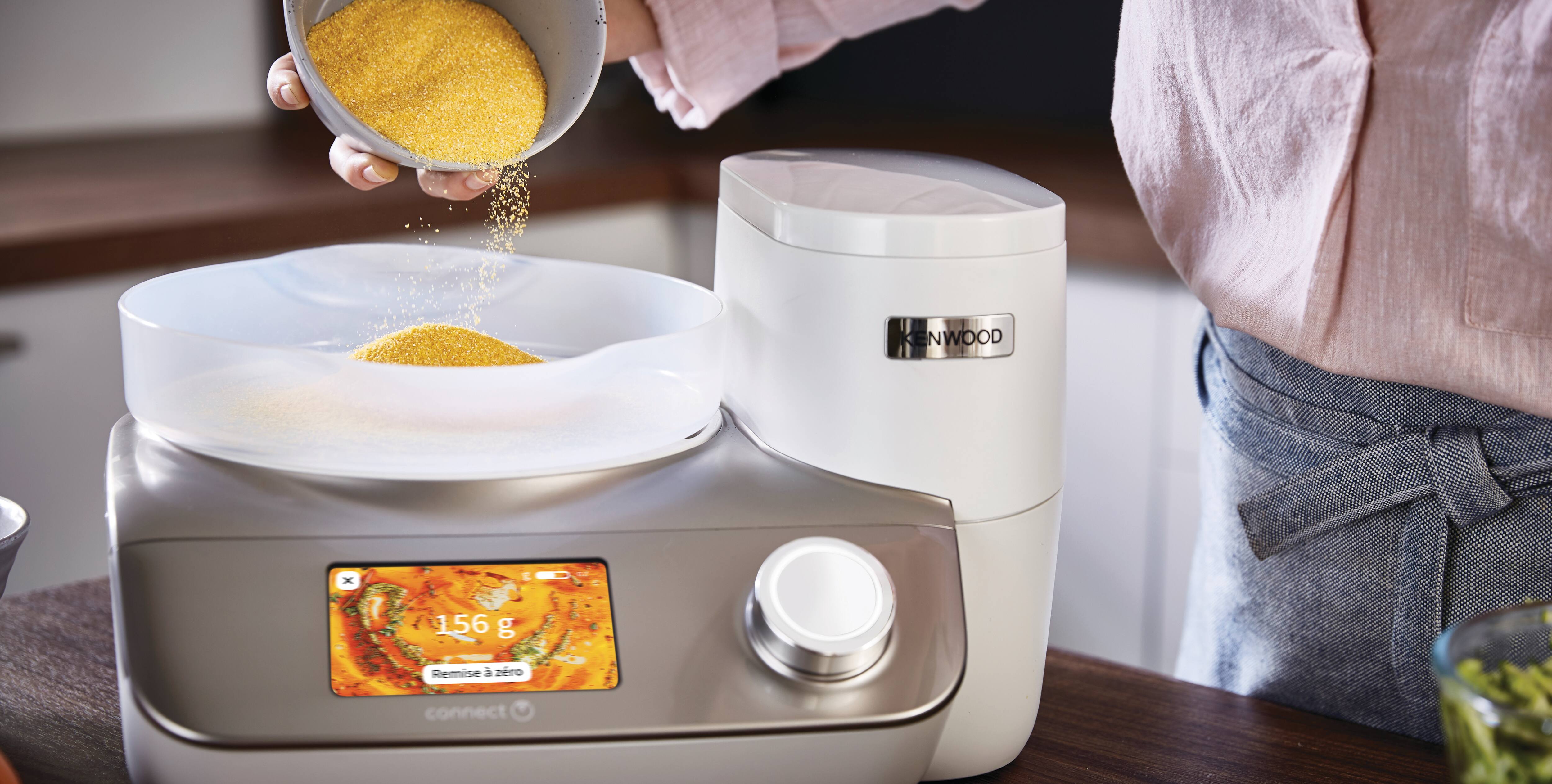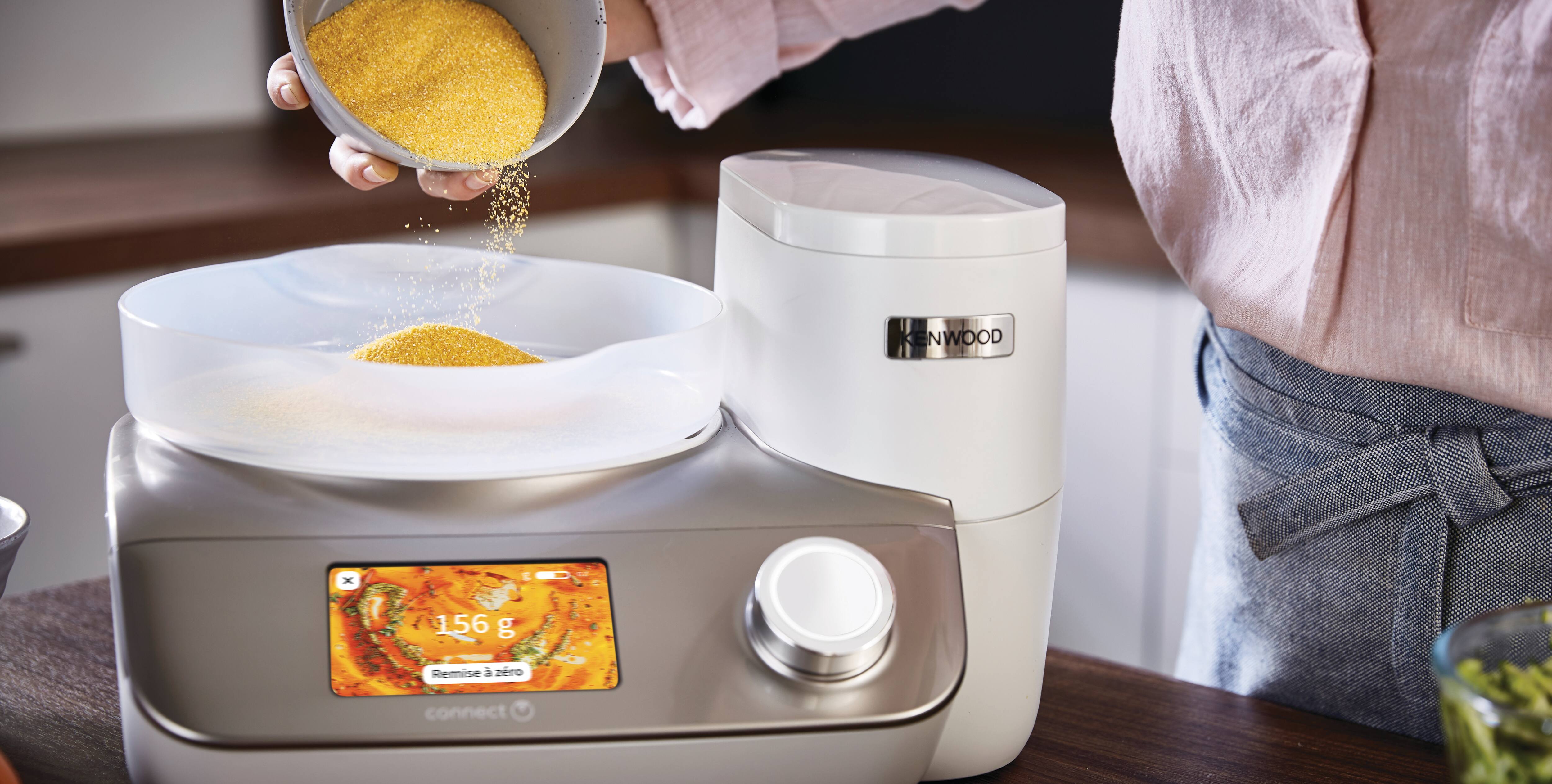 The CookEasy+'s integrated smart scales are designed to save you both space and time, as you measure out ingredients weighing anything from 1g up to 6kg directly into the bowl or onto the weighing platform. Precise measurements are displayed on the illuminated screen, or via the Kenwood World app, giving you the benefit of accurate measurements when baking and being able to scale up recipes for large batch cooking.
9 useful presets
There are nine handy presets to help you create quick every day favourite dishes with minimal fuss. Choose from one pot meal, smooth soup, chunky soup, slow cook, knead, steam, sous vide and proof: all with the optimum time, temperature and stir speed required already programmed, or you can amend them to suit your own recipes. And once you're done, use the rinse preset to give your CookEasy+ a thorough clean before disassembling.
Temperature control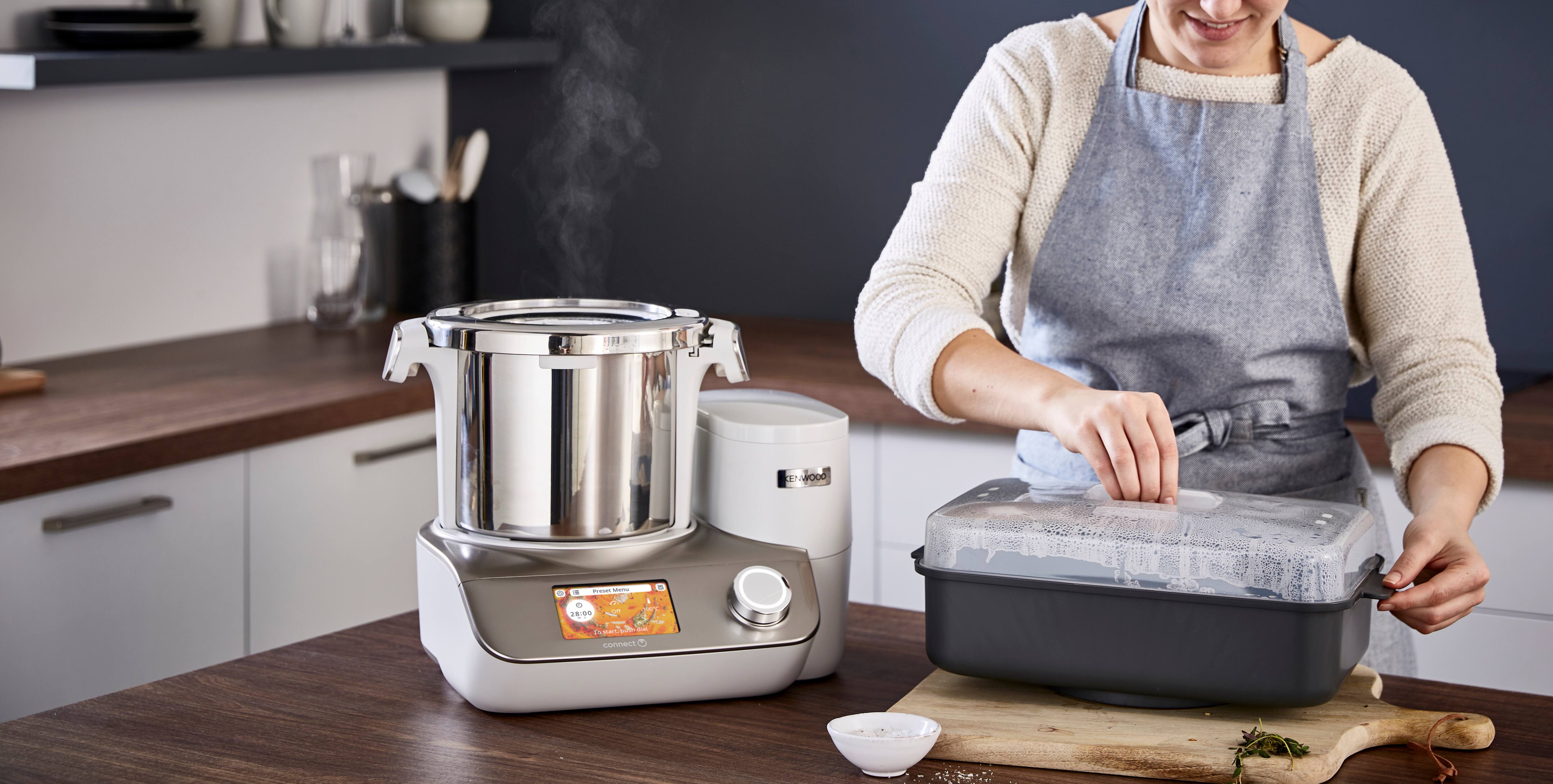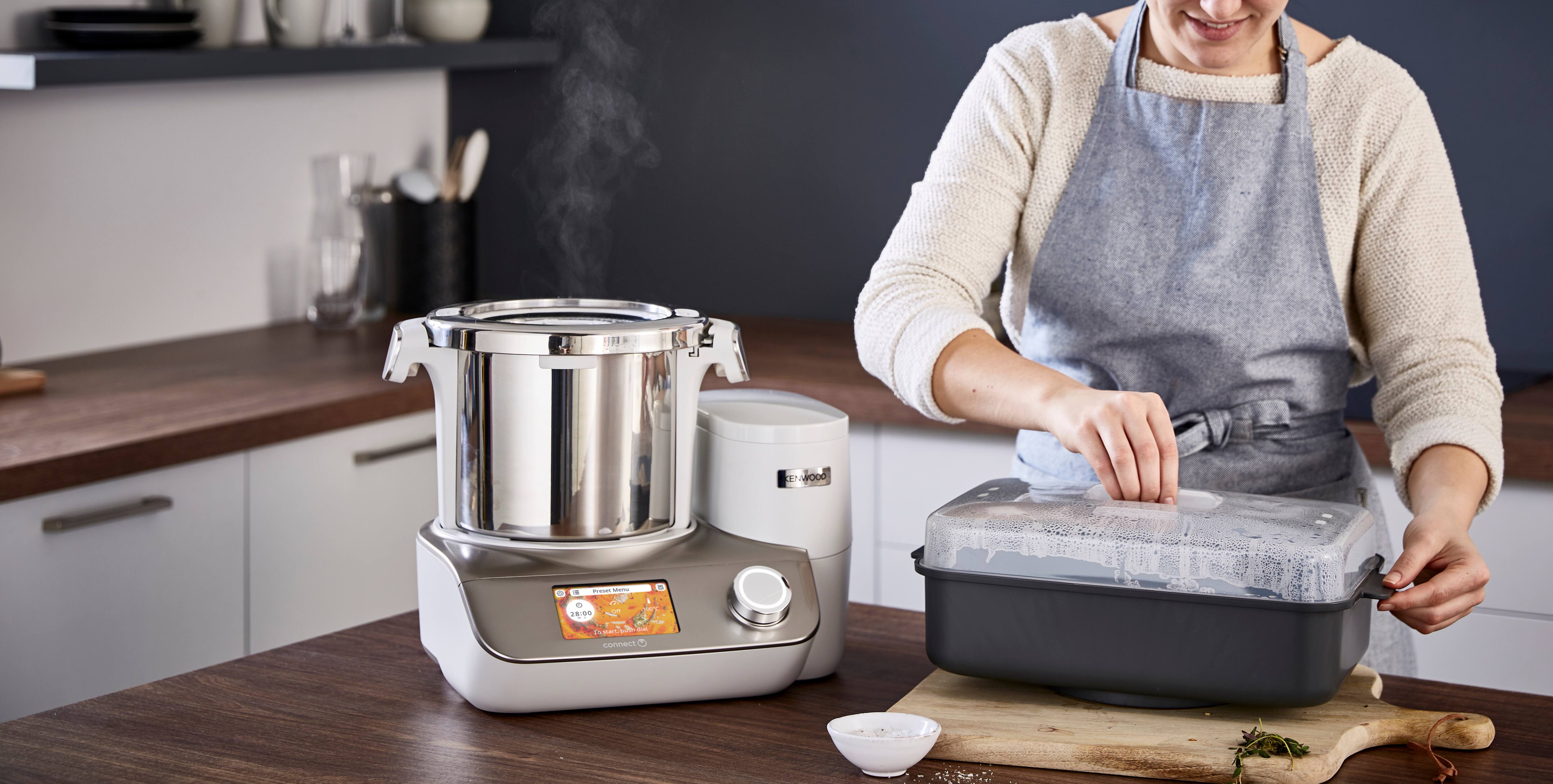 The CookEasy+ offers a wide temperature range, enabling you to sauté, simmer, sear or steam using temperatures anywhere between 30 and 180℃. You can adjust the temperature in 1℃ increments, giving you the flexibility to prove dough, reheat meals, melt chocolate, make a sauce or throw together a sizzling stir fry. Whatever you're cooking, you stay in complete control.  
What's included in the box?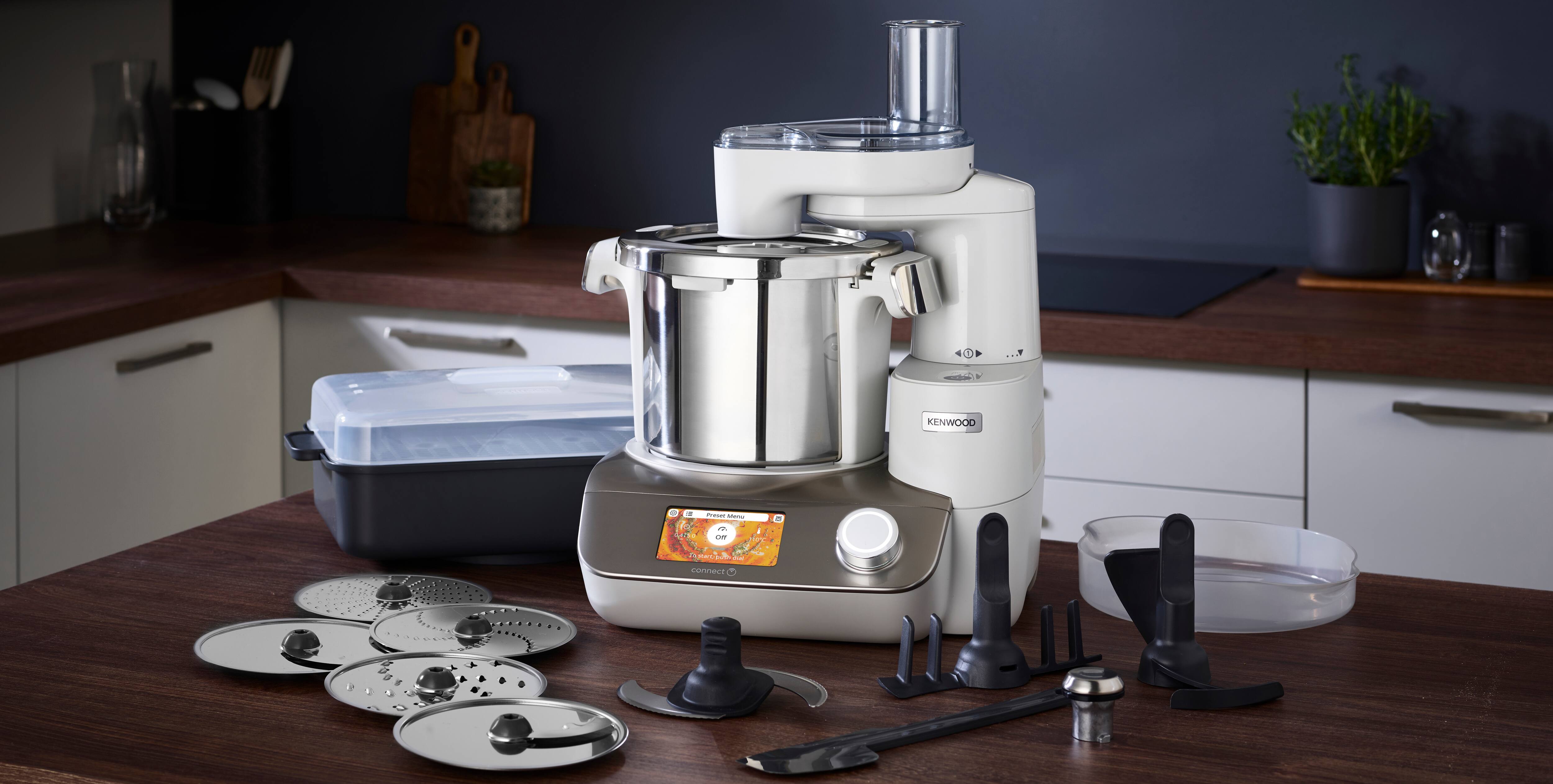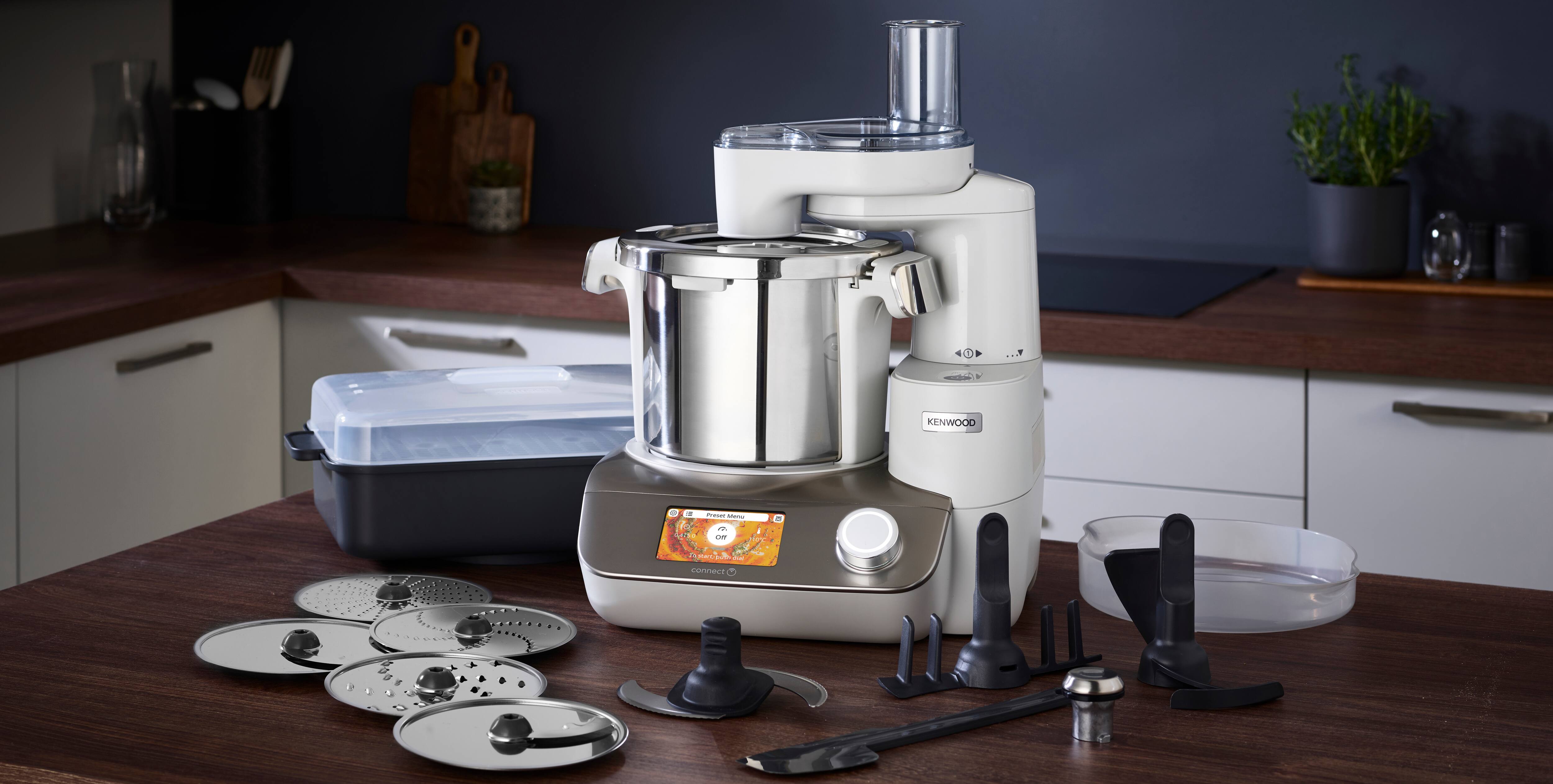 The ultra versatile CookEasy+ comes with a range of tools and attachments to help you produce tasty homemade meals with ease, all of which are dishwasher safe:

Knife blade - for chopping, blending, kneading and mixing, so you can make anything from pestos and soups to breads and cakes

Stir tool - to gently mix ingredients, without breaking them down. This is also good for sauces.

Whisk tool - for whipping cream, whisking eggs and batter and making meringue

Slow cook plug - for slow cooking tender joints of meat and casseroles

Steaming tray - a dual layered 7.2 litre steamer that keeps nutrients locked in as you steam vegetables, meat or fish

Weighing bowl - for convenient, mess-free weighing 
Connect to the Kenwood World App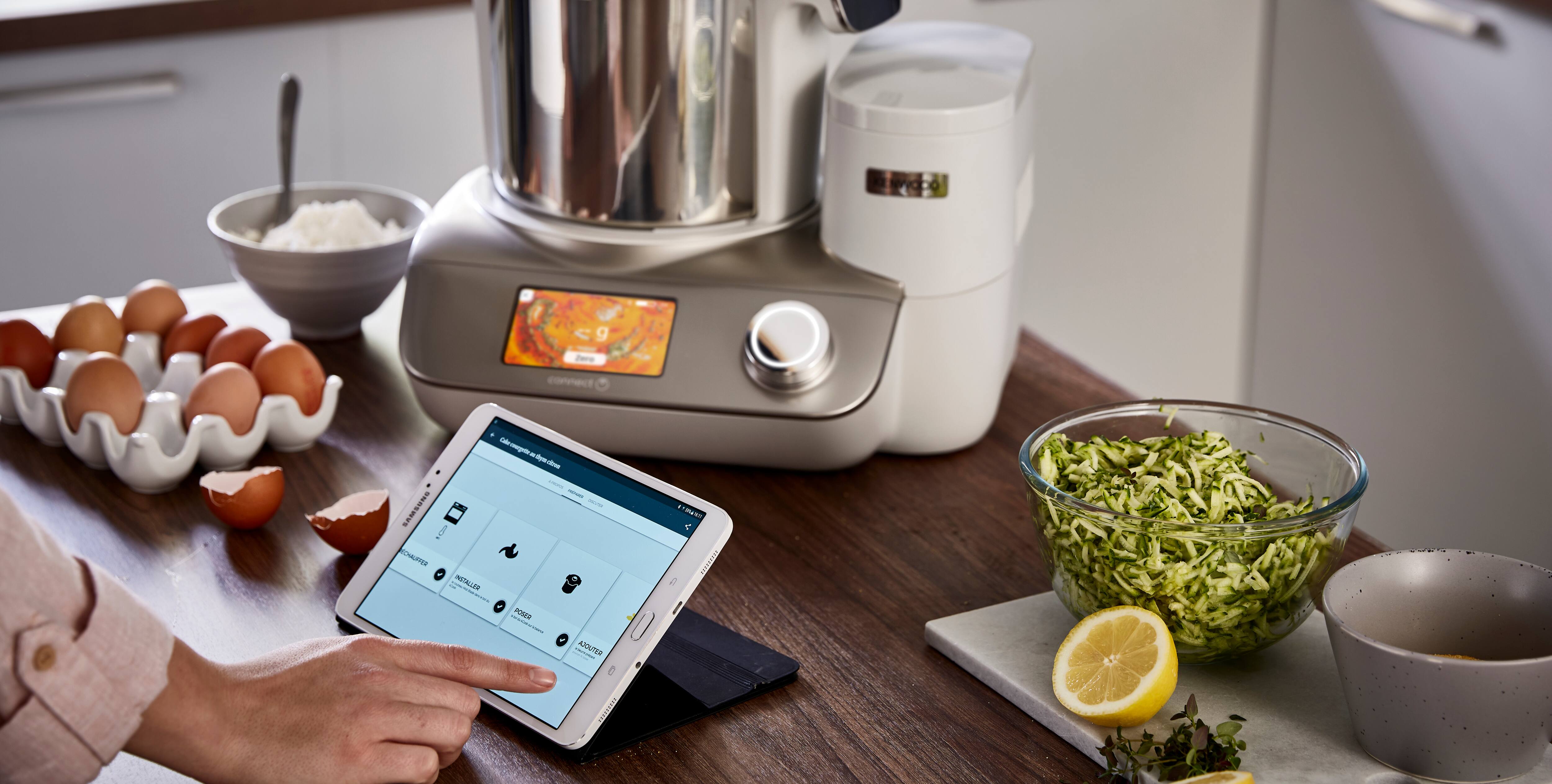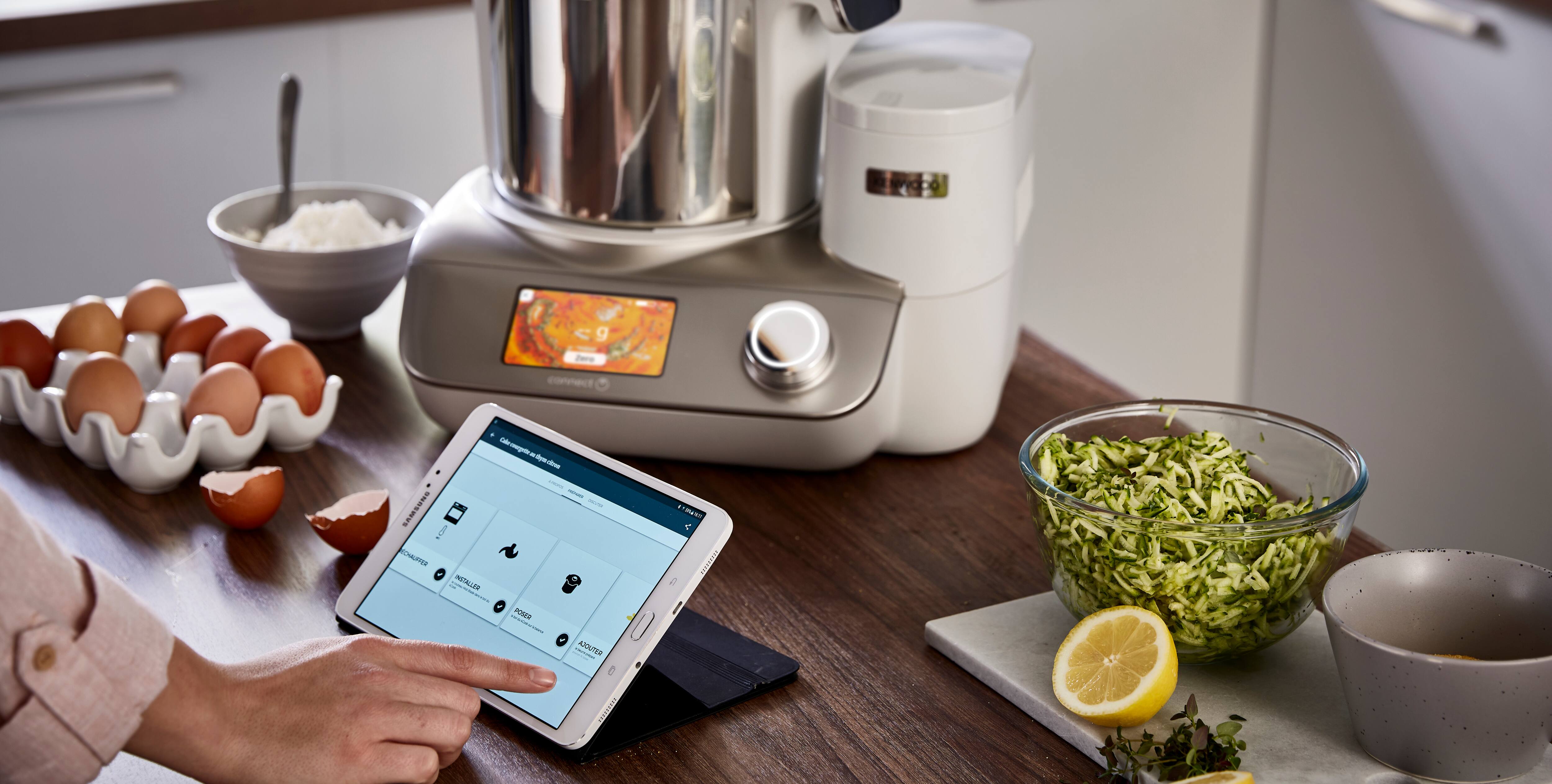 Discover a world of culinary inspiration by connecting your CookEasy+ to the Kenwood World app. Not only will you get access to hundreds of recipes from across the world and step by step guided cooking, you'll also be able to automatically adjust recipes for when you have extra mouths to feed or last minute cancellations, swap out ingredients, add your own recipes and save your favourites.
What can you make with your CookEasy+?
With a machine that can do so much, there's really no end to what you can create using your CookEasy+. 
Made with fragrant lemongrass and creamy coconut milk this spicy
Thai carrot soup
is an easy to make, healthy lunch option on a winter's day, while this Vietnamese
quick beef pho
takes just 30 minutes to make using your CookEasy+. 
And let's not forget about desserts and sweet treats. Use your CookEasy+ to prepare both the crumble and the filling for this comforting
apple and rhubarb crumble
, or this deliciously sticky
upside down banana cake
, which is served with a warm maple and nut sauce for the perfect teatime treat. And if you're looking for a guaranteed crowd pleasing dessert to serve up, you can't  go too far wrong with this
brownie base cheesecake
, with a creamy cheesecake mixture and gooey chocolate brownie base, drizzled with dark chocolate.   
You can find  more information on how to get the most out of your CookEasy+, including guides to how to assemble the appliance, use all the various functions and connect to the Kenwood World app over on the Kenwood Global
YouTube
page.